Are You Getting Kirkpatrick Evaluation Right?
On October 12, Jim and Wendy Kirkpatrick conducted a webinar with Training Magazine Network called, "Getting Kirkpatrick Evaluation Right – Case Examples and Tips from Practitioners."
Participants were able to pick up practical tips for creating and demonstrating program value in any organization, in terms that stakeholders want, from four practitioners who have successfully implemented the Kirkpatrick Model. These practitioners have implemented the model in government, military and corporate organizations.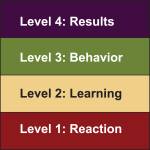 Click here to listen to the recording so you can hear some of the key learnings, pitfalls to avoid and tips for success.

Click here for the handout.

Technical Assistance

This webinar was hosted by TMN on their live webinar platform. If you have trouble viewing the recording, please consult TMN's support page by clicking here.

Additional Resources

Kirkpatrick Four Levels® Evaluation Certification Program – Bronze Level

Kirkpatrick's Four Levels of Training Evaluation
Business Partnership Produces Results at IU Health

Your Keys to Success in 2012: An Interview with Jana Muma

Watch Jim Kirkpatrick's Appearance on Emirates News

Are Your Training Programs Improving Your Company's Efficiency?