Simple Rewards for Good Performance: How Can Training Contribute to On-the-Job Performance?
Our quick tip series so far has covered monitoring, reinforcing and encouraging employees. Today, we look at the final major piece of the required driver package- rewarding.

As it relates to training and performance, a broad view of the concept of rewards is often beneficial so you are not beholden to financial realities of a volatile economy or budget.

On the formal and extrinsic level, obtain confirmation from managers and perhaps Human Resources during the program design phase that existing reward systems are compatible with what training graduates will be asked to do on the job.

For example, you would not want to train sales professionals to follow a set call schedule and a sales call outline, but then allow them to earn a bonus even if they do not adhere to the schedule and the script. Doing so sends an overall message that the critical behaviors are not critical at all; they are optional.

On an informal or intrinsic level, training can work with managers and supervisors to create equally important rewards for those who perform the critical behaviors reliably, and disincentives for those who do not. Examples include:
​A departmental "jeans day"
​Small prizes, such as movie tickets and coupons for favorite coffee shops and lunch locations
​Early dismissal Fridays
​Recognition in the company newspaper, bulletin board, intranet or website
​Fun trophies, plaques or awards that circulate on a daily, weekly or monthly basis
Sometimes just having someone notice and mention good performance is even more meaningful than any particular tangible reward. For example, a manager from another department could say, "Charlie, I noticed that you stayed late last week to get the order packed and shipped on time. I really appreciate it, and the customer has already called to thank us for our prompt service."
Our belief at Kirkpatrick Partners is that "rewards" take many shapes, and it is important to find out what forms individual employees prefer. It can take the form of simply coming alongside an employee to say, "I noticed what you did and I appreciate it."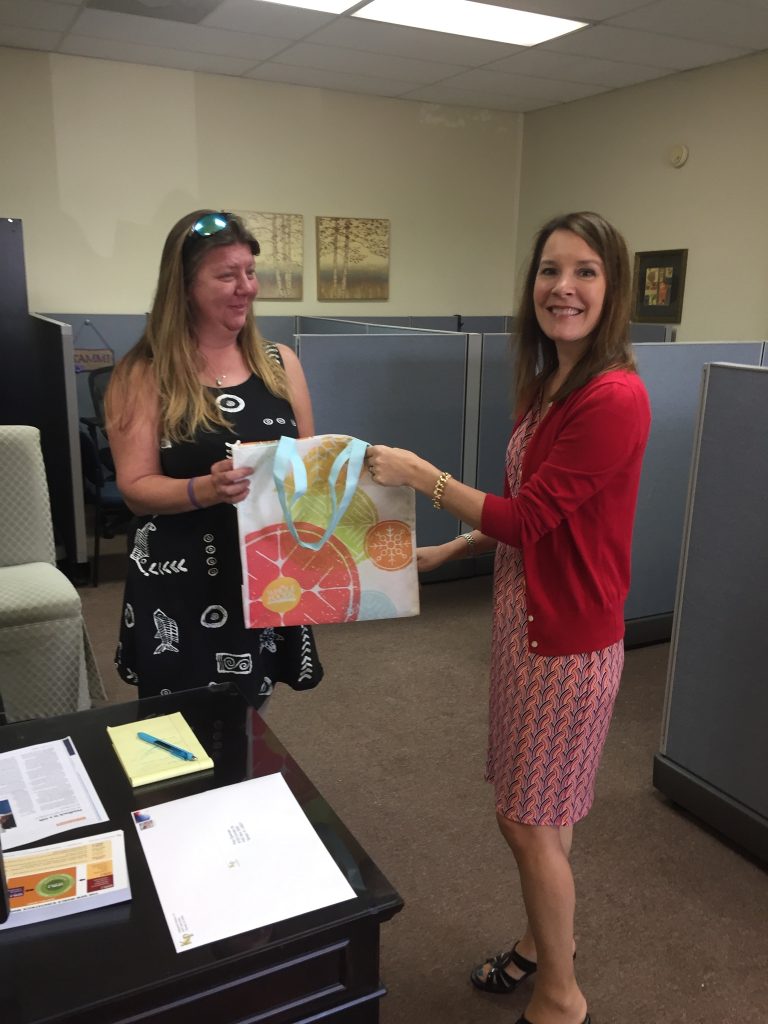 Rewards can also be more tangible. Wendy is exceptionally good at this. She frequently brings in coupons or little presents that are meant to say, "I appreciate you." Since she is quite a green person at heart (green in the sense of personal and environmental health), the gifts tend to be things that show her concern for these areas. Note the recyclable bag she is presenting to Mel.
A final form of reward is more tangible. We are in the midst of figuring out a process of profit sharing.
Tune in next week for the final quick tip, on the whole, required driver package.
To learn more about the required driver package and the New World Kirkpatrick Model, pre-order our new book Kirkpatrick's Four Levels of Training Evaluation. This book is a comprehensive blueprint for implementing the model in a way that truly maximizes your business's results. Now through August 5, ATD members can receive 20% off the pre-order price when using the code MIDSUMMER16.
Additional Resources
Kirkpatrick Four Levels® Evaluation Certification Program – Bronze Level
Kirkpatrick's Four Levels of Training Evaluation
Do You Catch People Doing Things Right?
Improving Performance to Drive Business Results
How to Use Drivers to Ensure Training Success
Lesson #3: Mission-Critical Programs Require a Post-Training Support Plan