Has Your Training Budget Been Cut? Here's Help
Has your 2023 training budget been cut or eliminated? If so, you're not alone. Here are practical ideas to get your training and development plan back on track.
Jason was so excited about the programming he had created for his organizational population of 50,000 employees for the coming year. At the end of the prior year, he had surveyed employees on their needs, contacted vendors to secure appropriate programs, and created an annual schedule. He got the budget approved, and he was ready to go! Until January, when the budget was reduced to half due to companywide budget cuts.
If this has happened to you, you are not alone. Far from it. In a quick LinkedIn poll, nearly 25% said their training budget has been cut, and nearly 30% said they don't have a formal training budget at all. Here is some guidance if your training budget has shrunk or is non-existent. If your budget is fine, use these ideas to make the most of it and protect it in the future.
Step 1 – Find Out Why the Budget Was Cut
The first step in addressing a training or professional development budget cut is finding out why it has occurred. The same logic holds true if there is no defined budget. There is typically a high-level explanation such as, funding has been reduced and each area needs to cut back. Or, revenue or profitability is down, so non-critical areas must spend less. The latter of these is more commonly heard by the training department.
Take it to heart if your organizational leadership views training as "non-critical." This is feedback you can use to correct the situation. What your organization is saying is they do not see enough value being created from what has been invested in training. This feedback may hurt a bit but take the honest appraisal as a gift. This is a problem you can fix.
In fairness, we make this type of judgment call all the time. Suppose you are feeling overwhelmed with work, so you find a task management app and try it out for free for a month. Near the end of the month when you need to start paying for it, you think, "Am I feeling less overwhelmed? Is this app helping me to organize and prioritize my tasks in the way I thought it would? Is it worth it to pay for this and keep using it?" These are the same questions your training stakeholders are asking themselves about the offerings you and your team provide.
If your stakeholders cut your budget, you are not delivering value in line with what they entrusted you with to create better performance and organizational results. In a nutshell, they see you merely as a cost-center. If all you are doing is developing and delivering training, this is often the case. You need to make dramatic changes, and fast.
A good way to stay in touch with the expectations of the business is to spend time in it. Become "bilingual" and learn the language and ways of the business. Find out what is important and look for ways you and your department can help them to accomplish the highest-level goals. Make connections with business peers and invite yourself to strategy meetings whenever possible. Build relationships with the business so they view you as one of them, not as a stranger from another department or group.
Once you're on the team, then you can discuss specific business initiatives and how training might be a part of making them a success.
Step 2 – Ensure Training Produces Better Performance and Organizational Results
To gain or restore the training budget, make sure your interventions are improving the performance of training graduates. Then, show how this performance measurably improves key organizational metrics. If you use phrases like learning journey, update your approach and related terminology to encompass a learning and performance path. Broaden your focus from solely training to a holistic performance improvement perspective.
The Kirkpatrick Model is a simple way to express this idea.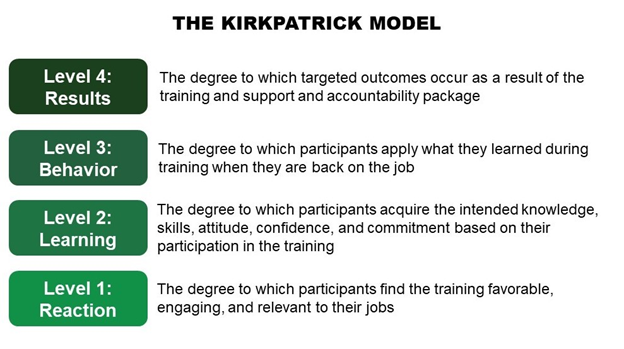 For initiatives that require significant resources, start by defining the Level 4 Results of your organization. This is the highest-level mission of your organization, combined with the financial reality. For example, most corporations have a mission to meet a customer need with their product or service, and, they must do so profitably.
Government and military organizations have very high-level missions, and they must accomplish these within their budget allocation. Non-profit organizations have similarly high-level missions, and they must accomplish them with donations and appropriations.
Take one of your most important programs and in your own words, articulate how it contributes to your organization's mission, and makes good use of the funding available. Define key organizational metrics the program will improve. Typical examples include:
Increase in sales or profitability of a specific product line
Reduction in employee turnover
Increase in customer or employee satisfaction
Reduction of waste, scrap, injuries, or other undesirable occurrences
Once you are clear on how the program would contribute to key organizational metrics if it is a success, define what a successful program graduate should do on the job to create those outcomes. This is the most important part of any initiative, and it is the most often skipped. Be very literal and specific about what people should be doing to be successful.
For example, after leadership development training, don't just say graduates should lead their teams effectively. Define the desired behavior in a way that is observable and measurable. For example, new managers will use the provided coaching guide during a weekly touch base with each direct report. It is easy to track if the guide was used and if the touch bases occurred.
Only 15% of training graduates successfully implement their learnings on the job unless there is clear direction and ongoing support in the work environment. What happens after training is therefore far more important than what happens during training.
Focus your time and resources on creating a support and accountability package. Enlisting the help of managers, supervisors, and support departments to help implement it. Build the package as you build the training materials; this helps to ensure it gets done.
In the leadership development example, you could pair new managers with experienced managers as mentors to provide support. To hold the new managers accountable to using the coaching guide, you could have them submit a monthly or weekly recap of coaching sessions held and key topics.
Step 3 – Be Strategic With Available Resources
Even with a sound training plan focused on performance and results, the reality is your budget may still be smaller than ideal. Spend the money you do have on strategic education that will help you to improve the value of all your offerings. For a relatively small investment you can learn how to focus your training on what is most strategically important and design the content so it gets used on the job and creates the biggest possible impact.
Armed with this knowledge and skill, you can select a key program or two to use as pilots. Focus most of your time and resources on making sure people implement what they learned in training on the job. Provide support when they need it. Adjust the plan and keep monitoring performance until you get the results you are looking for. Report the results in the form of both numeric and qualitative forms. This is the type of success story that keeps and increases budgets!
You do not have to go it alone. In fact, connecting with other departments and groups and working together will increase your chances of success.
To justify the spending on strategic education, save money on training content. Find free webinars, videos, and guides on the internet and customize them to fit your specific needs. Instead of continually editing and improving content, let good enough be good enough and use those resources to build your post-program support package.
Follow this advice and remove yourself from the dubious honor of being one of the first departments to get its budget cut.
Get Started!
You may have some time on your hands if your training budget has been reduced. Take advantage of this time to learn how to focus your training resources on what is most important. Read this free white paper.
For a small investment you can read our latest book.
For the easy button, get Kirkpatrick certified. In the program you will learn how to create a complete four-level program implementation and evaluation plan for a mission-critical program. You will never have to fear that your training is going to be deemed non-critical again.
Contact us if you have questions about what approach is right for you.