Evaluation Tips from the Tropics #1: A Storm Is Brewing
As many of you know, I'm always thinking about how real world things relate to training and training evaluation. Wendy and I recently took a trip to Turks and Caicos, and I found myself taking pictures of the beach that made me think about the Kirkpatrick Model and the major changes that are taking place in the training industry.
Everything in this picture is peaceful and serene. Many professionals think this is the state of evaluation; they picture smile sheets, classroom observation, chat boxes, tests, games and positive results.
They are just hoping beyond hope that someone will be monitoring on-the-job application and ultimate results.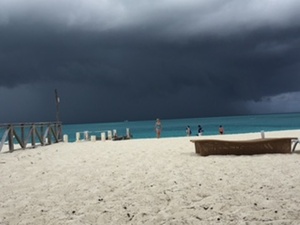 However, there is a storm brewing, threatening to destroy this beautiful scene. This represents the many training professionals, myself included, who say that the old, traditional methods are not sufficient.
Many of these same people say that all we need to do in order to conduct effective evaluation is to harness the power of technology. They think that 30-60-90 day post-training surveys will solve all our problems.
Others, those who believe in the New World Kirkpatrick Model, are saying, "No. We cannot ignore the human factor." The human factor includes relationship building, classroom and on-the-job observation, informal recognition, interviews and focus groups.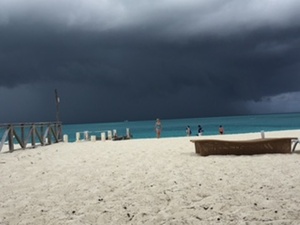 As Wendy and I continued to look at the beach and the ocean beyond, the storm intensified, just as the storm is intensifying in the learning and development industry.
A battle is looming between technology and the human factor. These two sides see themselves as having irreconcilable differences.
In this picture, Wendy has captured me saying, "There doesn't have to be a battle." I believe that those who feel that it's time to move away from old training tradition can work together to form a coalition.
We should absolutely be using all that technology has to offer, including gamification, simulations, dashboards and scorecards, testing and surveys, and audience response systems. However, we must never forget that the soul of evaluation comes from the human factor.

This human factor, which is the center of the New World Kirkpatrick Model, involves trusting partnerships between L&D and the business, powerful Level 3/Level 4 testimonies from supervisors of training graduates, communities of practice and peer support. These are the strategies and tools that will establish you as a valuable business partner rather than just someone who conducts training programs. This is how you will lead your organization to true results.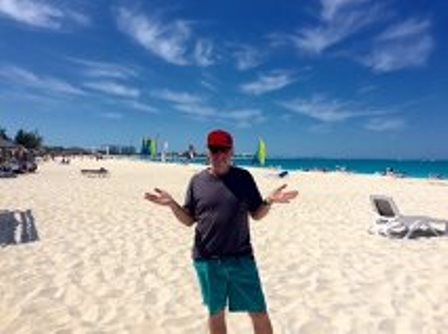 Join the Discussion

Are you noticing a learning and development storm brewing in your organization? Have you begun to take action? We'd love to hear your experiences. Here are some ways to join the conversation:

Don't Miss a Feature

Register with us to receive Kirkpatrick Quick Tips delivered to your inbox each Wednesday.

Additional Resources
Kirkpatrick Four Levels® Evaluation Certification Program – Bronze Level
Bringing Business Partnership to Life
Business Partnership Is Everywhere
Do You Challenge Training Tradition?